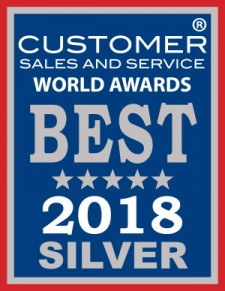 Celebrating 15 Years of Exceptional Customer Service and Support
BLOOMFIELD, N.J., September 4, 2018 (Newswire.com) - Alloy Software today announced that its Sales and Technical Services teams have been named Silver Winners in the 13th Annual 2018 Customer Sales and Service World Awards for Customer Service Team of the Year in IT Operations.
The Customer Sales and Service World Awards were created to honor and generate recognition for the achievements of sales and service teams spanning numerous industries across the globe. This coveted annual program, with active participation from more than 80 judges from a broad spectrum of international industry voices, encompasses the world's best in Sales and Service individuals, teams and departments.
At Alloy Software, customer service is a long-standing cornerstone of the company philosophy. That philosophy is born from an unwavering appreciation for the trust customers place in Alloy's award-winning software and its service-oriented personnel. With a mindset fixated on customer success, Alloy Software's Sales and Technical Services teams consistently ensure customers can achieve their business objectives, leverage industry best practices, and seize opportunities to receive amazing results.
"It's always an honor to be recognized for doing something you love, and we truly do love making our customers successful and happy," said Paul Ille, Director of Sales and Services of Alloy Software. "Our goal is to make every single person who interacts with Alloy Software a part of our family, and this award confirms for us we're going in the right direction. Many thanks to our outstanding customers for giving us the opportunity to serve them."
Alloy Software's products are being used successfully in several industries from hospitality, entertainment, and tourism to engineering, manufacturing, financial and government organizations. For more information on Alloy Software products, visit http://www.alloy-software.com/products.
For additional information contact: Jonathan Cotto at 973-661-9700 ext. 7214 or jcotto@alloy-software.com
About Alloy Software
Established in 2002, Alloy Software is a leading provider of IT Service Management and IT Asset Management solutions that help organizations of all sizes automate IT operations. Today, still under original management, Alloy Software has been named one of the fastest-growing private companies in North America and has received numerous accolades from industry publications for their solutions and services. Alloy Software serves companies worldwide, including financial, healthcare, higher education, technology, public sector, retail, manufacturing and more.
For More Information:
About the Customer Sales and Service World Awards
The Customer Sales and Service World Awards is the world's premier recognition program created to honor and recognize industry-wide and peer achievements of sales, service, business development, marketing, channels, franchise, and training individuals, teams, departments, and achievements. The Annual Customer Sales and Service World Awards is part of the SVUS Awards® recognition program from Silicon Valley in the United States of America which also includes other programs such as Consumer World Awards, Customer Sales, and Service World Awards, Golden Bridge Awards, Globe Fastest Growing Private Companies Awards, Info Security PG's Global Excellence Awards, Network Products Guide's IT World Awards, Pillar World Awards, PR World Awards, and Women World Awards. To learn more, visit www.cssworldwards.com.
Source: Alloy Software Inc.
Share: