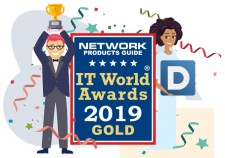 Alloy Discovery Awarded Network Management Product of the Year by Information Technology Awards
BLOOMFIELD, N.J., November 21, 2019 (Newswire.com) - ​​​​​Alloy Software, a leading provider of IT Service Management and IT Infrastructure Management solutions for the enterprise, today announced that Network Products Guide, the industry's leading technology research and advisory guide, has named Alloy Discovery a Gold winner in the 2019 IT World Awards in the "Network Management Solutions of the Year" category.
With active participation from a broad spectrum of industry voices, the coveted annual IT World Awards recognition program encompasses the world's best in organizational performance, products and services, hot technologies, executives and management teams, successful deployments, product management and engineering, customer satisfaction, and public relations in every area of information technology.
Awarded for its robust enterprise network inventory platform that accurately identifies IT assets on the local network and reveals their configuration details, installed software, and relationships between physical and even virtual equipment. Alloy Discovery provides an intuitive network management solution across a wide spectrum of industries including government, financial, educational, manufacturing, health care, IT service, and more.
"It's an honor to be named a winner by IT World Awards for this esteemed industry and peer recognition," said Alloy Software CEO Vladimir Vinogradsky. "This important accomplishment is a testament to our team's commitment to deliver reliable and practical solutions for IT's everyday needs. It inspires us to even greater efforts in continuously seeking new, innovative ways to improve our products and serve customers better."
Established in 2002, Alloy Software Inc. is a leading provider of Service Desk, Asset Management and Network Inventory solutions that help organizations of all sizes automate their IT operations and deliver high-quality service. Alloy Software serves companies worldwide in several diverse industries, including finance, healthcare, education, technology, public sector, retail, manufacturing and more.
About Alloy Discovery
Alloy Discovery enables organizations to view their entire IT infrastructure through intuitive network auditing capabilities that deliver an abundance of essential information. Within minutes, users can access detailed accounts of their hardware and software assets, computers, configuration details, and the relationships between them. This knowledge gives users the ability to easily troubleshoot issues, evaluate risks, plan for system upgrades and replace equipment. ​
About Network Product Guide's IT World Awards
As the IT industry's leading technology research and advisory publication, Network Products Guide plays a vital role in keeping decision-makers and end-users informed of the choices they can make in all areas of information technology. The Annual IT World Awards is part of the SVUS Awards® recognition program. To view the complete list of winners visit https://networkproductsguide.com/winners/2019-it-world-awards/
For More Information:
Follow Alloy Software on Twitter at @AlloySoftware
Follow Alloy Software on LinkedIn
Become a fan of Alloy Software on Facebook
Source: Alloy Software, Inc.
Share: