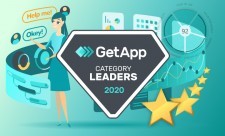 BLOOMFIELD, N.J., October 8, 2020 (Newswire.com) - Alloy Software, a leading provider of IT Service Management and Asset Management solutions, announced today that it has been named a Category Leader for IT Service Management software by GetApp.
Alloy Navigator, the company's flagship product, has received high reviews from users around the world, who praised the flexibility of the solution and the highest level of customer service. Strong reviews from GetApp users gave Alloy Navigator an overall rating of 4.5 out of 5, ranking it in the top 10 solutions.
Reviewers noted the following strengths of Alloy Navigator:
"Alloy can be as simple or as complex as you want it to be based on how you set it up. The flexibility and depth are what I love most about it."
"I really like the variety of modules and the tech support available to help out. I also like the ease of use for my technicians."
"The ease of use, ability to customize the software to our needs, and the fantastic support we receive." ​​​
GetApp's Category Leader rankings highlight the top 25 cloud-based business applications for every essential business operation, from marketing automation to HR and expense management. The ranking uses five unique data points to assess apps, giving software buyers a shortlist of some of the top cloud-based solutions for their growing business. Category leaders for IT Service Management software are available at GetApp's Category Leaders in IT Service Management (ITSM).
"We are proud to be named a GetApp Category Leader," said Ivan Samoylov, CTO of Alloy Software. "Earlier this year, Alloy Navigator was also named an IT Asset Management category leader, which makes this recognition even more significant for our team. This ranking affirms Alloy Navigator's capability to deliver an exceptional experience for our customers and demonstrates our unwavering commitment to deliver reliable and practical solutions for IT's everyday needs."
About Alloy Navigator
Alloy Navigator is an all-inclusive on-premises and in-cloud IT Service Desk and IT Asset Management platform that helps users to maximize the efficiency of IT operations and reduce costs. It covers major IT disciplines ranging from Service Desk, IT Service Management, Asset, and Software Asset Management and provides highly flexible workflow automation and CMDB. Alloy Navigator is geared toward small, medium, and enterprise businesses that strive to achieve the highest levels of productivity.
About Alloy Software
Established in 2002, Alloy Software is a leading provider of Service Desk and Asset Management solutions that help organizations of all sizes automate IT operations and keep services running. Alloy Software serves companies worldwide, including financial, healthcare, higher education, technology, public sector, retail, manufacturing and more.
About GetApp
GetApp, a Gartner company, is the leading premium business app discovery platform on the web. Headquartered in Barcelona (Spain), GetApp serves as a platform for user-generated and editorial reviews of software and apps for businesses.
For More Information 
Source: Alloy Software, Inc.
Share: