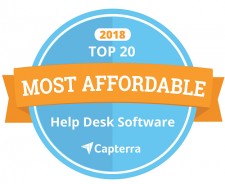 Capterra Recognition is the Fourth Industry Award Earned This Year
BLOOMFIELD, N.J., October 9, 2018 (Newswire.com) - ​Alloy Software continued its ascent in the fourth quarter of 2018 by picking up its fourth industry award win of the year. Alloy Navigator has been recognized by Capterra, the leading online resource for business software buyers, as a Top 20 Most Affordable Help Desk Software product for 2018. Capterra is a Gartner company.
The Top 20 Most Affordable Help Desk Software Report is an independent assessment that evaluates the standard features offered by a product, the cost of these features and customer reviews on feature fit, value and quality. This list is available at https://www.capterra.com/help-desk-software/#affordable.
"We are honored to be voted as one of the Top 20 Most Affordable Help Desk Solutions by a leading industry publication such as Capterra," said Vladimir Vinogradsky, founder and CEO of Alloy Software. "Alloy Navigator strives for a perfect balance of features, performance and affordability, making it an easy choice for managing daily IT operations and helping IT professionals achieve the highest levels of service quality, operational effectiveness and customer satisfaction. This recognition by industry experts is a great motivator for our entire team in the continued evolution of our IT management solutions."
Alloy Software's products are being used successfully in several industries from hospitality, entertainment, and tourism to engineering, manufacturing, financial and government organizations. For more information on Alloy Software products, visit http://www.alloy-software.com/products.
For additional information, contact Jonathan Cotto at 973-661-9700 ext. 7214 or jcotto@alloy-software.com.
About Alloy Navigator
Alloy Navigator is a powerful and cost-effective Service Desk solution designed and built with industry best practices and real-world customers in mind. Centered on a powerful business process automation engine, Alloy Navigator equips customers with the tools to streamline and improve the efficiency of IT processes and services, including Incident, Problem and Change Management, Asset Management, Knowledge Management and more. In 2017, Alloy Navigator was ranked among the Top 20 Most Popular ITSM products by Capterra. This year, Alloy Navigator has risen to win a Bronze Stevie Award, a Silver Customer Sales and Service World Award and a Gold Consumer World Award.
About Alloy Software
Established in 2002, Alloy Software is a leading provider of IT Service Management and IT Asset Management solutions that help organizations of all sizes automate IT operations. Today, still under original management, Alloy Software has been named one of the fastest-growing private companies in North America and has received numerous accolades from industry publications for their solutions and services. Alloy Software serves companies worldwide, including financial, healthcare, higher education, technology, public sector, retail, manufacturing and more.
About Capterra
Capterra is the leading online resource for business software buyers. Founded in 1999, Capterra features validated user reviews and independent research across hundreds of software categories. From Accounting to Yoga Studio Management, Capterra covers it all. Each month, Capterra helps more than three million buyers find the right software. Capterra is a Gartner company. For more information, visit capterra.com.
For More Information
Source: Alloy Software Inc.
Share: