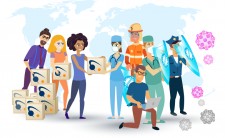 Lends a hand to businesses hit hardest by COVID-19
BLOOMFIELD, N.J., March 26, 2020 (Newswire.com) - ​​Alloy Software today announced a special program aimed at businesses struggling with the effects of the Coronavirus pandemic.
The COVID-19 outbreak has put a tremendous amount of pressure on businesses of all kinds. The healthcare industry courageously stretches to care for our sick, truckers and shipping companies honor their schedules to deliver supplies, police and fire emergency personnel put themselves in further harm's way to protect us, and food and travel industries are feeling financial hardships, among many others. Behind the scenes, IT teams work hard to deliver critical technology under extreme circumstances while transitioning to a remote workforce to ensure the safety of their employees.
Alloy Software has launched the Stay Strong Program to lend a helping hand to those who need it most right now.
The Stay Strong Program includes:  
Unlimited licensing for up to 6 months for all existing customers dealing with the increased workload associated with the impact of COVID-19.
A no-cost IT Management solution offering for up to 6 months for new customers whose businesses are negatively affected by COVID-19.
Flexible payment terms for companies struggling with the current financial climate so they can continue to support their businesses and help others do the same.
"In the face of the unprecedented COVID-19 crisis, our thoughts and prayers are with the people affected, and with first responders and medical professionals working around the clock and risking their lives to help those suffering from the Coronavirus," said Vladimir Vinogradsky, the president of Alloy Software. "The very least we can do is pledge our unwavering support by lending our experience and tools to those who need it most right now."
The Alloy Software Stay Strong Program is available immediately until Sept. 1, 2020 for the Alloy Navigator product line to all businesses affected by the COVID-19 pandemic.
About Alloy Software
Established in 2002, Alloy Software is a leading provider of Service Desk and Asset Management solutions that help organizations of all sizes automate IT operations and keep services running. Today, still under original management, Alloy Software has been named one of the fastest-growing private companies in North America and has received numerous accolades from industry publications for their solutions and services. Alloy Software serves companies worldwide, including financial, healthcare, higher education, technology, public sector, retail, manufacturing and more.
For more information
Source: Alloy Software, Inc.
Share: